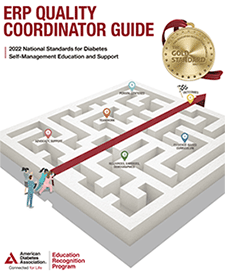 To promote quality education for people with diabetes, the American Diabetes Association (ADA) endorses the 2022 National Standards for Diabetes Self-Management Education and Support. If you are seeking reimbursement for diabetes education, it is appropriate to apply for ADA Recognition of your diabetes education program or service.
Download the 2022 11th Edition Quality Coordinator Guide
Learn more about the benefits of ADA Education Recognition.
Ready to Apply?
If your service plans on submitting an application for Recognition within the next six months, please submit an ERP onboarding form. The Quality Coordinator will receive an email containing the ERP Portal login credentials along with the application instructions within 24-48 hours.
ERP Meet and Greet
If your Service is in the process of applying for ADA Education Recognition and have questions, you can now schedule a meet and greet with the ERP team. Please email ERP@diabetes.org for more information and to schedule a meeting.
Please email ERP@diabetes.org(link sends e-mail) or call 1.888.232.0822 to reach an Education Recognition Program staff member
ERP University
Education Recognition - First Steps
Maintaining Recognition
Educational Tools & Resources

Please email ERP@diabetes.org(link sends e-mail) or call 1.888.232.0822 to reach an Education Recognition Program staff member