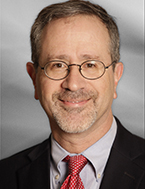 2021 Outstanding Physician-Clinician in Diabetes Award
Silvio E. Inzucchi, MD
Silvio E. Inzucchi, MD, is the recipient of the 2021 Outstanding Physician Clinician in Diabetes Award. This award is presented to an individual to reward and honor meritorious contributions to diabetes clinical practice.
Currently a professor at Yale School of Medicine, New Haven, Connecticut, program director of the Endocrine Fellowship, and clinical chief of endocrinology, Dr. Inzucchi maintains an academic clinical practice as well as a research program.
Dr. Inzucchi assembled the first inpatient diabetes management service in Connecticut. His group developed the Yale Insulin Infusion Protocol, now used in many intensive care units. In 2008, Dr. Inzucchi founded the Yale Diabetes Center (YDC) at Yale-New Haven Hospital and serves as its medical director; the YDC has grown to 14 providers and over 4,000 patients.
His research has focused on optimal selection of glucose-lowering medications in patients with type 2 diabetes and cardiovascular disease. Dr. Inzucchi was part of the research team directing the EMPA-REG OUTCOME trial, the first to conclusively demonstrate that a diabetes medication could both control glucose and reduce cardiovascular complications.
Dr. Inzucchi co-chaired the ADA-EASD writing committee that developed type 2 diabetes treatment guidelines in 2012 and 2015, amongst the most highly cited papers in diabetes over the past decade. In this context, he helped to develop the now widely accepted concept of individualizing glucose-lowering therapy based on risks and benefits of therapy and underlying patient characteristics.
Please join us in celebrating Silvio E. Inzucchi, MD, for outstanding accomplishments in diabetes care.