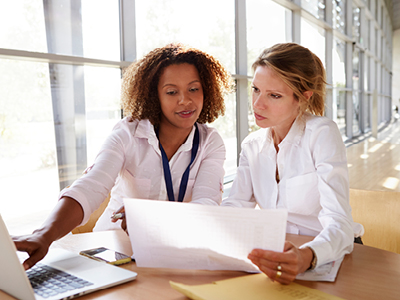 Do More With Your Data
The American Diabetes Association® (ADA) introduces the newest version of DPP Express. Gone are the days of difficult data collection and reporting required by the Diabetes Prevention Recognition Program (DPRP). This update brings a simplified, streamlined, and user-friendly experience you'll want to take advantage of.
Using DPP Express you can
Easily Navigate Tools
Platform supports an unlimited number of users and participants
Utilize a unified cohort documentation page
View and download required reports with just a click
Powerful Reporting Features
Comprehensive program metric reporting with filters that allow you to focus on specific cohorts, payers and much more.
Cohort attendance reports track attended and missed sessions and participants' eligibly for CDC DPRP evaluation
Accurate, formatted reports meet all current and future DPRP standards
Detailed participant summary reports show progress overtime
Choose Features that Meet Your Needs
Basic Features Examples:
Required data collected in simple everyday language—not coding values
Cohort information page allows for quick documentation across all participants in the cohort
Advanced Features (Basic +) Examples:
Plan recruitment activities, collect contact information and interest levels of recruits, and communicate directly from the platform
Know who is referring participants are by tracking specific referral source information
DPP Billing Made Simple
Billing Reports for Medicare DPP and other Value-Based Payment Models:
Track billing mile markers and billing codes through individual and program billing reports
Produce required MDPP quarterly crosswalk reports with a click of a button
"DPP Express has been a wonderful tool for date documentation and reporting for CDC recognition. For my first class, I did my reporting spreadsheet by hand! Now, with DPP Express, I just download the report. It saves me so much time and decreases reporting errors. I am so glad that this program is available."
-Rebecca Eberly
Medical Nutrition Specialist
Web-based system Health Insurance Portability and Accountability Act (HIPAA) Secure System—no download required
Import Existing Data Using Previous DPRP Data Submissions—Ensure that your DPRP data is consistent from one sequence to the next
Free, Friendly Customer Support
User friendly support site includes instructions and videos for all aspects of the program so you can get answers quickly or contact DPP Express staff through email or phone
Pricing
Curious about pricing for DPP Express? Costs start as low as $300 per year for basic features and applicable discounts*. Prices will vary with the addition of advance features.
Learn more about how DPP Express can help you do more with your data. Complete this interest form and one of our expert team members will reach out to you to help determine the options that will best meet the needs of your organization.

For additional questions, please email DPPExpress@diabetes.org or call 1-888-232-0822.
*Education Recognition Program discounts apply.
"DPP Express platform is very easy to navigate, track participants sessions and recruitment, input data, and generate CDC's reports. When tracking participants data, I live all of the icons available that help me identify where each value should be added."
-Marsella Mayoral
El Centro Regional Medical Center