Background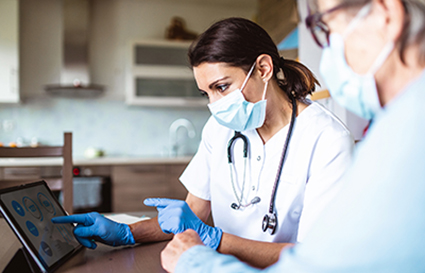 Diabetes INSIDE® (Inspiring System Improvement with Data-Driven Excellence) is the American Diabetes Association's (ADA) long-term strategy to translate more than 78 years of science and advocacy into action by supporting the nation's health care systems to improve population outcomes for people with diabetes. The goal of Diabetes INSIDE is to catalyze, accelerate, and sustain health care improvement across health care systems, public health departments, and payers, as well as a range of stakeholders and organizations committed to improving diabetes outcomes. Interventions have included:
Quality improvement methodology training for health care personnel
Multidisciplinary health care team coaching and provider professional development
Recognition and dissemination strategies
Diabetes INSIDE Shared Learning
Learn more from previous participants' quality improvement interventions including the challenges, solutions, and successes.
Current Project
The ADA has partnered with Institute for Healthcare Improvement (IHI) for the next phase of the Diabetes INSIDE initiative. We are inviting participants to join in to improve the quality of care for people with Type 2 diabetes (T2D). The initiative will support quality improvement efforts by engaging directly with hospitals and outpatient clinics to provide long-term support to their teams of professionals as they redesign health care to better serve patients with diabetes. Participants will achieve this aim through an integrated approach focusing on quality and systems improvement, patient engagement and support, and health care professional education. Innovative healthcare organizations will collaborate to implement this integrated approach through a multi-phase, year-long initiative.
Phase 1 – Prioritizing Diabetes Improvement Opportunities
Phase 2 – Improvement Practicum Training Program
Phase 3 – Webinar Series
Get additional information about the current Diabetes INSIDE initiative.
View Diabetes INSIDE's approach.
Contact Us
The ADA is currently recruiting participants for the Diabetes INSIDE multi-year quality improvement project. As a participant, you will be part of a learning collaborative focusing on system thinking and quality improvement capacity building across health care organizations, well as health care professional education.
We are looking for institutions and practices that:
Service a diverse patient population
Have a team of health care staff including primary care physicians, endocrinologist, cardiologist, and others
Are focused on improving the delivery of care for their patients
The quality improvement will focus heavily on patient health care outcome data to:
Facilitate the assessment of key processes for improvement opportunities at baseline
Monitor impacts of improvements throughout the initiative
Inform the identification of best practices to spread
Participating sites will receive grant money for this initiative. Please contact Zuhal Haidari at zhaidari@diabetes.org for more information.