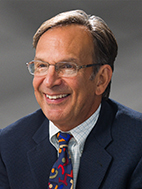 2021 Albert Renold Award
Bruce M. Spiegelman, PhD
Bruce M. Spiegelman, PhD, is the recipient of the 2021 Albert Renold Award. This award is presented to an individual whose career is distinguished by outstanding achievements in the training and mentorship of diabetes research scientists and in the development of communities of scientists to enhance diabetes research.
Currently the Stanley J. Korsmeyer Professor at Harvard Medical School and Dana-Farber Cancer Institute, Dr. Spiegelman created the field of adipose cell biology. His discoveries have changed our understanding of adipose tissue such that it is now considered an endocrine and energy organ with a strong impact in metabolic and related diseases.
The Spiegelman lab is focused on the molecular basis of adipose tissue development and function, including systemic metabolism and mitochondrial-dependent energy balance. Dr. Spiegelman discovered the molecular "master" regulator of adipose fate determination: the transcription factor PPARγ. He also discovered the dominant regulator of mitochondrial biogenesis: PGC1. Trainees from his lab now do work in the broad spheres of adipose development and energy homeostasis.
Scientists who trained in the Spiegelman lab continue the work begun with his discovery that adipose tissue in obese/diabetic conditions secretes inflammatory factors, now considered one of the main causes of insulin resistance. Many Spiegelman trainees heading their own labs are working on transcriptional regulators such as PGC1α and PRDM16. Activation of these regulators determines the adaptive energy expenditure that controls energy metabolism balance, critical for body weight and protection against metabolic and associated diseases. Spiegelman lab trainees have won many awards, including the ADA Lilly Award, Pew Scholars, and election to the National Academy of Science.
Please join us in celebrating Bruce M. Spiegelman, PhD, for outstanding contributions to the training of diabetes research scientists.