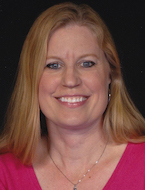 2022 Outstanding Educator in Diabetes Award
Amy Hess-Fischl, MS, RDN, LDN, BC-ADM, CDCES
Outstanding Educator in Diabetes Award Lecture
"We Are The Champions, My Friends: Adventures in Diabetes Care in Education"
Amy Hess Fischl has been an advanced practice dietitian and diabetes care and education specialist for over 20 years. She has been working at the University of Chicago within the departments of pediatric and adult endocrinology for the past 15 years and has allowed her the privilege of educating and inspiring children, teens, young adults and adults and their families living with diabetes. Amy has been co-authored the following publications: the 2015 and 2020 Consensus Reports for Diabetes Self-Management Education and Support (DSMES) in Type 2 Diabetes, the first ADA/EASD Consensus Report for Type 1 diabetes published in 2021 which introduced a T1D-specific 4 Critical Times for DSMES graphic, the 2017 National Standards for DSMES. She was also the co-chair of current 2022 National Standards revision, published in February of this year. She is a strong advocate that all people with diabetes should be given the opportunity to received diabetes self-management education and support. Amy can say without question that she is lucky to be working her dream job -- being able to collaborate with people with diabetes to enhance their self-management skills and knowledge.
Please join us in celebrating Amy Hess-Fischl, MS, RDN, LDN, BC-ADM, CDCES, for outstanding contributions to diabetes education and care.