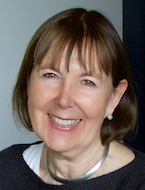 2022 Banting Medal for Scientific Achievement
Professor Dame Frances Ashcroft
Banting Medal Lecture
"Metabolic regulation of insulin secretion in health and disease"
Frances Ashcroft is Professor of Physiology at the University of Oxford, a Fellow of Trinity College Oxford, and a Fellow of the Royal Society of London. She received her PhD from the Cambridge University and did post-doctoral studies with Drs Peter Stanfield (University of Leicester) and Susumu Hagiwara (UCLA). She established her own group at the University of Oxford in 1983, with a focus on the regulation of insulin secretion from the pancreatic beta-cell and how this process is impaired in diabetes. She has won several awards for her work including the Croonian Lecture (Royal Society), the L'Oréal/UNESCO For Women in Science Award (European Laureate), the Albert Renold Prize (European Association for the Study of Diabetes) and the Lewis Thomas Prize for Science Writing (Rockefeller University). In 2015 she was made Dame Commander of the Order of the British Empire.
Please join us in celebrating Professor Dame Frances Ashcroft for his outstanding contributions to diabetes research.