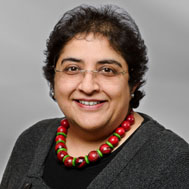 2019 Outstanding Scientific Achievement Award
Sadaf Farooqi, MB, ChB (Hons), PhD

Outstanding Scientific Achievement Award Lecture
Obesity and the Biology of Weight Regulation

Sadaf Farooqi, MD, PhD is the recipient of the 2019 Outstanding Scientific Achievement Award. This prestigious award recognizes research in diabetes that demonstrates particular independence of thought and originality. Dr. Farooqi will present the Outstanding Scientific Achievement Award Lecture on Monday, June 10.

Dr. Farooqi is a Wellcome Trust Principal Research Fellow and Professor of Metabolism and Medicine at the Wellcome-MRC Institute of Metabolic Science, University of Cambridge, UK. An internationally recognized clinician scientist, Dr. Farooqi has made seminal contributions to understanding the genetic and physiological mechanisms that underlie severe obesity and its complications.

With her mentor Professor Stephen O'Rahilly, Dr. Farooqi played a leading role in the identification and treatment of congenital leptin deficiency, studies which proved that leptin is an essential regulator of appetite and body weight in humans. In children with severe obesity recruited to the Genetics of Obesity Study (GOOS), and with colleagues, she identified and characterized several genetic disorders. In clinical studies, she showed that leptin-melanocortin signaling affects the intake and rewarding properties of food and the preference for dietary fat, re-framing obesity as primarily a disorder of appetite. By demonstrating that these neural circuits modulate blood pressure by altering sympathetic nervous system tone, her work has provided an explanation for the link between obesity and hypertension. As a result of her work, genetic analysis is now part of the diagnostic assessment of severely obese people and some children with life-threatening obesity have been treated with mechanism-based therapies.