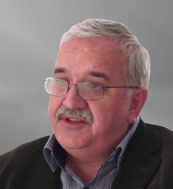 2019 Banting Medal for Scientific Achievement
Stephen O'Rahilly, MD

Banting Medal Lecture
"Treasure your exceptions". Studying human extreme phenotypes to illuminate metabolic health and disease

Stephen O'Rahilly, MD, is the recipient of the 2019 Banting Medal for Scientific Achievement. This award recognizes significant, long-term contributions to the understanding, treatment or prevention of diabetes. Dr. O'Rahilly will present the Banting Medal Lecture on Sunday, June 9.

Currently Professor of Clinical Biochemistry & Medicine and Head of the Department of Clinical Biochemistry at the University of Cambridge, Dr. O'Rahilly is renowned for his contributions to identifying novel extreme human metabolic phenotypes, discovering and characterizing numerous genes important in metabolic function and dysfunction, and developing new diagnostic and therapeutic applications, now established in clinical practice.

Dr. O'Rahilly's research has delved into human insulin resistance, including the discovery of novel genetic mutations associated with defects in insulin signaling. Through the discovery that people with dominant negative mutations in PPARγ had severe insulin resistance and hypertension, Dr. O'Rahilly first demonstrated the importance of PPARγ in glucose regulation and blood pressure. Dr. O'Rahilly was also the first to identify and describe several mutations causing human obesity. Furthermore, he established a centrally-funded national service providing diagnostic and therapeutic input to patients with severe insulin resistance in the UK.

Dr. O'Rahilly's illustrious contributions have been recognized by prestigious honors, including Foreign Membership of the National Academy of Sciences (USA), fellowship of the Royal Society, the Novo Nordisk/EASD International Prize, the Inbev-Baillet-Latour Award and the Luft Prize. He launched the Institute of Metabolic Science in Cambridge and has mentored many scientists who are now leaders around the world. Please join us in celebrating Dr. O'Rahilly's outstanding contributions to diabetes research.