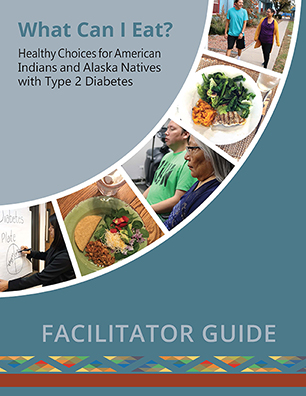 What Can I Eat? (WCIE?) Healthy Choices for American Indians and Alaska Natives (AI/ANs) with T2D is a 5-lesson diabetes nutrition education program culturally adapted for AI/ANs with T2D.
WCIE? AI/AN will be available to all AI/AN serving health care organization at no cost because of the generosity of the American Diabetes Association, Genentech and Shakopee Mdewakanton Sioux Community of Minnesota. This includes Indian Health Service, Urban Indian Health Organizations and Tribes, as well as Special Diabetes Program for Indians grant programs.
The Curriculum consists of a scripted facilitator guide, a participant guide and group share questions for each class.
It you are interested in obtaining this curriculum please send an email to wcienativeamerican@diabetes.org for approval to download this curriculum at no cost.

To learn how the curriculum was adapted view the research article, Facilitators and Barriers to Healthy Eating Among American Indian and Alaskan Native Adults with Type 2 Diabetes: Stakeholder Perspectives.