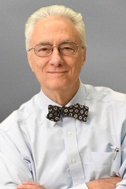 2019 Albert Renold Award
Rudolph L. Leibel, MD

Rudolph L. Leibel, MD, is the recipient of the 2019 Albert Renold Award. Supported by an unrestricted grant from Merck, this award is presented to an individual whose career is distinguished by outstanding achievements in the training and mentorship of diabetes research scientists and in the development of communities of scientists to enhance diabetes research.

Dr. Leibel is the Christopher J. Murphy Memorial Professor of Diabetes Research, Professor of Pediatrics and Medicine, Head of the Division of Molecular Genetics, and Co-Director of the Naomi Berrie Diabetes Center at Columbia University.

Dr. Leibel and his associates have carefully crafted a scientific environment in which curiosity of students and fellows is encouraged. To enable these efforts, he successfully lobbied the Russell Berrie Foundation to establish the Naomi Berrie Fellowship and the Russell Berrie Scholar Programs – each of which support post-doctoral scientists in training at Columbia University and throughout the world. Dr. Leibel has continued to chair the program and has overseen awards to more than 50 Berrie Fellows and Scholars over the last twenty years. He has trained over 60 graduate students and postdoctoral fellows in research related to the molecular pathogenesis of obesity and diabetes.

Furthermore, Dr. Leibel's basic research and clinical investigations have helped to define key molecular components of the regulatory system that controls body weight and adiposity, the inflammatory response to obesity, and genetic susceptibility to type 2 diabetes. Most recently, Dr. Leibel and his collaborators have used stem cell-based strategies to create and analyze human islet and hypothalamic cells as experimental tools in the analysis of the molecular physiology of diabetes and obesity.