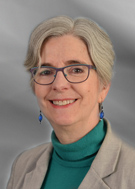 2020 Outstanding Physician Clinician Award
M. Sue Kirkman, MD
M. Sue Kirkman, MD, is the recipient of the 2020 Outstanding Physician Clinician in Diabetes Award. This award is presented to an individual to reward and honor meritorious contributions to diabetes clinical practice.
Dr. Kirkman is professor of medicine at the University of North Carolina. She cares for adults with all forms of diabetes in a multidisciplinary clinic with high use of diabetes technology. Dr. Kirkman has served as investigator in numerous trials including the VA Diabetes Trial, the Diabetes Prevention Program, and the Glycemia Reduction Approaches in Diabetes: A Comparative Effectiveness Study (GRADE) Trial. As medical director of the Diabetes Clinical Trials Unit, she oversees a team conducting 15-20 clinical trials at any given time.
From 2007-2012, Dr. Kirkman served as senior vice president of Medical Affairs at the American Diabetes Association (ADA), overseeing multiple areas including development of ADA positions statements and reports. She led efforts on many important statements, including the highly cited Diabetes in Older Adults report. She revamped the processes for developing the Standards of Medical Care to enhance their rigor. She recognized primary care providers as essential to diabetes care, starting ADA's Primary Care Advisory Group and helping to initiate the "Diabetes Is Primary" conferences.
Dr. Kirkman has continued to be an active volunteer with the ADA, serving on the Advanced Postgraduate Course planning committee, guideline committees, and the editorial board of Diabetes Care. She has received a distinguished reviewer award from ADA's scholarly journals for each of the past five years.
Please join us in celebrating M. Sue Kirkman, MD, for outstanding accomplishments in diabetes care.