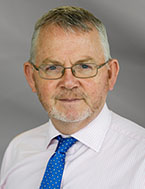 2021 Kelly West Award for Outstanding Achievement in Epidemiology
Nicholas J. Wareham, FMedSci, FRCP, FFPHM, MBBS, MSc, PhD
Kelly West Award for Outstanding Achievement in Epidemiology Lecture
Risk Factors and Type 2 Diabetes
Nicholas J. Wareham, FMedSci, FRCP, FFPHM, MBBS, MSc, PhD, is the recipient of the 2021 Kelly West Award for Outstanding Achievement in Epidemiology. This award recognizes significant contributions to the field of diabetes epidemiology. Dr. Wareham will deliver the Kelly West Award Lecture on Sunday, June 27.
Currently the director of the Medical Research Council Epidemiology Unit, codirector of the Institute of Metabolic Science, honorary consultant at Addenbrooke's Hospital, and professor of epidemiology at the University of Cambridge, England, Dr. Wareham undertakes research to understand the etiology of type 2 diabetes and develop strategies for early detection and prevention, including individual and societal-level interventions.
Dr. Wareham is the director of the Centre for Diet and Activity Research (CEDAR) and the National Institute for Health Research Global Health Group on Diet and Activity Research (GDAR), a principal investigator on the EPIC-Norfolk study and leads the working group for diabetes, obesity, and physical activity in the EPIC-Europe study. He is co-lead of the ADDITION study, a trial of screening for diabetes and intensive cardiovascular risk reduction in three European countries.
As coordinator of the EPIC-InterAct project, the world's largest study of incident type 2 diabetes, he has investigated how genes and lifestyle factors interact to lead to diabetes.
Please join us in recognizing Nicholas J. Wareham, FMedSci, FRCP, FFPHM, MBBS, MSc, PhD, for outstanding contributions to diabetes epidemiology.