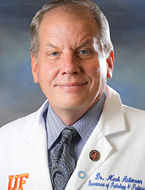 Harold Rifkin Award for Distinguished International Service in the Cause of Diabetes
Mark A. Atkinson, PhD
Dr. Mark Atkinson is currently the American Diabetes Association Eminent Scholar for Diabetes Research at the University of Florida (UF), the Jeffrey Keene Family Professor, and the Director for the UF Diabetes Institute. The author of over 600 publications, 2023 marks his 40th year of investigation into the field of type 1 diabetes (T1D). Expertscape notes him to be among the top three most cited authors in T1D, at a global level, over the last two decades. His research interests include the pathogenesis and natural history of T1D, immune regulation, clinical trials for T1D prevention/reversal, and pancreatic pathology. He has also been active in a leadership service to the diabetes research and care community, with active administrative or advisory service with the ADA, JDRF, National Institutes of Health, the Immunology of Diabetes Society, and more. He has served as the ad Hoc Editor in Chief of the ADA journals Diabetes and Diabetes Care for more than a decade. Dr. Atkinson has been the recipient of numerous scientific and humanitarian-based awards for his academic and charitable efforts including the ADA's Outstanding Scientific Achievement and Albert Renold awards. Finally, Dr. Atkinson is active at a global level for causes related to the care and treatment of those in the developing world as well as identifying variances in the pathogenesis of diabetes in these regions. For this cause, he co-founded (with Carol Atkinson) Insulin for Life USA where he serves as the organization's President.
Please join us in celebrating Mark A. Atkinson, PhD, for distinguished international service in the cause of diabetes.