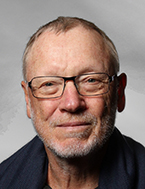 2021 Banting Medal for Scientific Achievement
Jens Juul Holst, MD, DrMedSci
Banting Medal Lecture
"In the Beginning Was the Gut - And Then Something Happened - A Story about the Incretins"
Jens Juul Holst, MD, DrMedSci, is the recipient of the 2021 Banting Medal for Scientific Achievement. This award recognizes significant, long-term contributions to the understanding, treatment, or prevention of diabetes. Dr. Holst will present the Banting Medal Lecture on Sunday, June 27.
Dr. Holst, a professor of medical physiology at the Department of Biomedical Sciences and group leader at the Novo Nordisk Foundation Center for Basic Metabolic Research, University of Copenhagen, Denmark, has focused his scientific work on the regulatory peptides of the pancreas and the gut, and their importance in the regulation of the functions of the gastrointestinal tract and metabolism, with a focus on blood glucose and appetite regulation, obesity, and diabetes. A particular emphasis has been on the role of the incretin hormones of the gut. Dr. Holst made the discovery that glucagon-like peptide 1 (GLP-1) is a gut hormone contributing to the glucose-induced gastrointestinal stimulation of insulin secretion and to the regulation of postprandial satiation, and that these effects can be exploited in the treatment of type 2 diabetes.
Currently Dr. Holst and his group are engaged in revealing the mechanism behind the extreme weight loss and diabetes remission following bariatric surgery. They have documented that this involves hypersecretion of gut hormones, including GLP-1. They now strive to identify the mechanisms, with the ultimate goal of developing new pharmacological diabetes and obesity treatments.
With an H-index of 147, Dr. Holst is among the most cited scientists in his field. He has authored more than 1,900 publications, including original research articles, book chapters, and review articles.
Please join us in celebrating Jens Juul Holst, MD, DrMedSci, for his outstanding contributions to diabetes research.