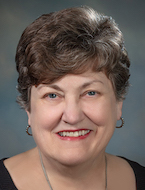 2022 Outstanding Physician-Clinician in Diabetes Award
Janet B. McGill, MD, MA, FACP
Dr. Janet McGill is Professor of Medicine in the Division of Endocrinology, Metabolism and Lipid Research at Washington University School of Medicine (WUSM), and attending physician at Barnes-Jewish Hospital in St. Louis, Missouri. She has treated adults with all forms of diabetes in the multidisciplinary WU-BJH Diabetes Center and has managed inpatients with diabetes for over 30 years. Her contributions to the care of persons with diabetes include recognition of complex autoimmune disorders in persons with type 1 diabetes and initiation of ketone testing in the BJH Emergency Department. Her current focus is optimizing technology in insulin taking patients, reduction of cardiovascular risk among all patients with diabetes, identification of atypical or monogenic causes of diabetes and comprehensive care of persons with pancreatic diabetes.
As a clinical researcher, Dr. McGill has been the principal investigator and/or a member of steering committees on single-center and multi-center clinical trials including the Captopril in Diabetic Nephropathy trial, RENAAL, TREAT, GRADE, PERL, DIAMOND, WISDM, MOBILE and CONFIDENCE. She was the PI for the T1D Exchange Clinic Registry and is a sub-investigator on the RADIANT study. Dr. McGill was the Endocrinology Fellowship director from 2009 – 2016 and she has mentored many students, residents and fellows. She received the Distinguished Clinician Award, the Alumni Achievement Award and the Endocrine Fellows' Teaching Award from peers at Washington University. Dr. McGill is an active member of ADA, and recent advocacy work has led to improved access to continuous glucose monitors for persons in Missouri and nationally.
Please join us in celebrating Janet B. McGill, MD, MA, FACP, for outstanding accomplishments in diabetes care.