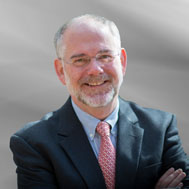 2019 Outstanding Achievement in Clinical Diabetes Research Award
John B. Buse, MD, PhD

John B. Buse, MD, PhD, is the recipient of the 2019 Outstanding Achievement in Clinical Diabetes Research Award. This award recognizes exceptional contributions in patient-oriented clinical outcomes research that have had a significant impact on diabetes prevention and treatment.

Dr. Buse is the Verne S. Caviness Distinguished Professor, Chief of the Division of Endocrinology, Director of the Diabetes Center, Director of the NC Translational and Clinical Sciences Institute and Executive Associate Dean for Clinical Research at the University of North Carolina. Embodying excellence and innovative leadership, Dr. Buse has led or participated in more than 200 clinical studies and dozens of epidemiologic analyses and translational projects.

His breadth of investigation ranges from early stage clinical characterization of new molecular entities to seminal trials, including critical drug safety outcomes studies. He is renowned for co-chairing the ACCORD trial, which demonstrated a lack of benefit of more intensive goals for glycemia, blood pressure and lipids, and for chairing the LEADER trial, which was the first demonstration of the broad effect of the GLP-1 receptor agonist liraglutide to reduce cardiovascular events and mortality in patients with type 2 diabetes at high cardiovascular risk.

Dr. Buse has been listed since 2015 among Thompson Reuters "Highly Cited Researchers" recognizing the top 1% of global investigators and is widely sought after as a lecturer, consultant, collaborator and clinical trial investigator. Please join us in celebrating John Buse, MD, PhD, for remarkable contributions that have substantially influenced the clinical care of diabetes.