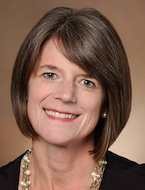 2022 Kelly West Award for Outstanding Achievement in Epidemiology
Jill M. Norris, MPH, PhD
Kelly West Award for Outstanding Achievement in Epidemiology Lecture
Type 1 Diabetes and Diet: Moving from Epidemiology to Opportunities for Precision Prevention
Jill M. Norris, MPH, PhD, is the recipient of the 2022 Kelly West Award for Outstanding Achievement in Epidemiology. This award recognizes significant contributions to the field of diabetes epidemiology. Dr. Norris will deliver the Kelly West Award Lecture on Sunday, June 5.
Dr. Norris received her MPH and PhD in Epidemiology in 1988 and 1990, respectively, from the University of Pittsburgh Graduate School of Public Health. She is currently Professor and Chair of the Department of Epidemiology in the Colorado School of Public Health. Dr. Norris' research has focused on the relationship between genes and environment in the development of autoimmune diseases such as type 1 diabetes (T1D), celiac disease, rheumatoid arthritis, and systemic lupus erythematosus, as well as type 2 diabetes, insulin resistance and obesity. She was principal investigator of the Colorado sites of the Insulin Resistance and Atherosclerosis (IRAS) Family Study and the Genetics of NIDDM (GENNID) study. She and her colleagues are following more than 2,400 children at-risk for T1D in the Colorado-based Diabetes Autoimmunity Study in the Young (DAISY), more than 8,000 at-risk children in the international multicenter The Environmental Determinants of Diabetes in the Young (TEDDY) study, and more than 2,700 adults at-risk for rheumatoid arthritis in the multicenter Studies of the Etiologies of Rheumatoid Arthritis (SERA). Her work is focused on investigating the role of maternal, infant, childhood, and adult dietary factors in the etiology of disease in at-risk populations using epidemiologic, metabolomic, genetic, and epigenetic approaches. Dr. Norris is an elected member of the American Epidemiological Society. She received the Noel Weiss and Tom Koepsell Excellence in Education Award from the Society for Epidemiologic Research, and the University of Pittsburgh Graduate School of Public Health Distinguished Alumni Award for Research.
Please join us in recognizing Jill Norris, MPH, PhD, for outstanding contribution to diabetes epidemiology.